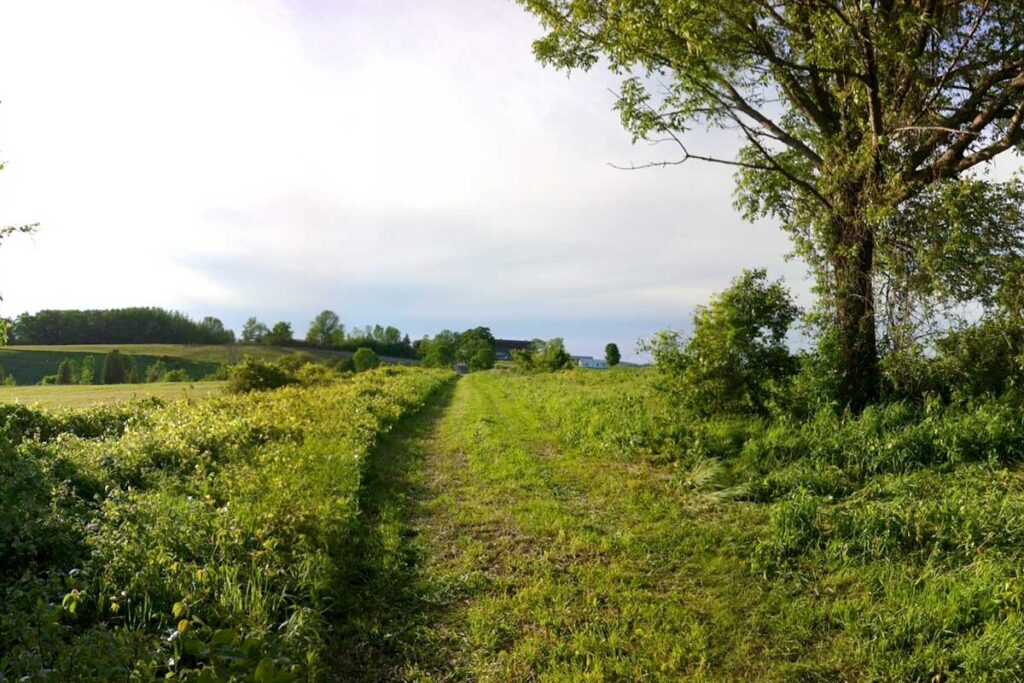 Headwaters is named for the numerous underground springs on our property that meander downhill towards Port Hope, converging to form the fast-flowing Gage's Creek which feeds into Lake Ontario. We think the name epitomizes the many ideas that bubble up to the surface and flow freely on our farm. We love the idea of people coming together to share and experience and create new ways of thinking.
Our 120 acres is typical of the rolling Northumberland County countryside. Nothing is flat around here, which is just what we were looking for! We have a mix of cultivated fields, pasture and meadow, forest and wetland with an ever-changing view of hills and dales all the way to Lake Ontario, 6 km away as the crow flies. 70 acres is arable land, most is used to grow feed for our animals (hays, oats, barley, peas) another step to being self-sustaining. We have about 2 acres of permaculture and market garden with some perennial food forest here and there. And we have about 8 acres of pasture set-up with a rotational grazing system for our cattle, horses, chickens and turkeys. The goats hand out in the wilder parts of the property.
Our soil is mainly sandy loam with a smattering of fine rocks, the result of glacial deposits sliding south from the Oak Ridges Moraine and Rice Lake. As a result we have excellent soil that drains well and our own rock quarry to dig up stone and gravel for foundation material for our house and roads.
Heading west our property has a decidedly steep dip with the slope covered in forest including a smattering of old growth oak, white pine and maple. As it flattens at the bottom, a wetland had formed thanks to the efforts of industrious beavers over the years creating a 2-acre beaver pond. Huge cedar stands have taken over the wetter areas, providing us with enough decking and fence posts to last for generations!
As we work on our trail system, we invite guests to wander the property at will, enjoying the changes of scenery, watching the grazing animals and hopefully sighting some of the wilder ones like deer, rabbit, weasel, fisher, porcupine, chipmunks, many species of birds, wild turkeys and the occasional coyote!